Key takeaways:
Toenail fungus is common among adults.

Oral medications work better than topical treatments for toenail fungus, especially for severe cases, but they can have bad side effects and interact with other medications.

Treatments for toenail fungus tend to work slowly, so patience is key.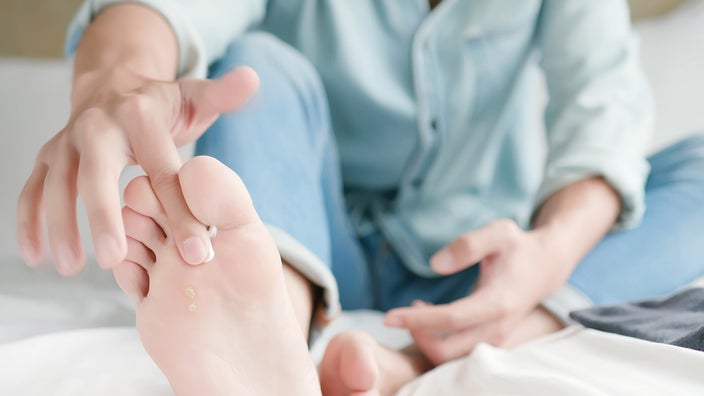 Save On Your JUBLIA® (efinaconazole) topical solution, 10%, Treatment
Learn how Ortho Dermatologics may help you save on Jublia. Eligible, commercially insured patients may pay as little as $0 for their first fill and eligible refills.
Actor portrayal
GoodRx Health information and resources are reviewed by our editorial staff with medical and healthcare policy and pricing experience. See our editorial policy for more detail. We also provide access to services offered by GoodRx and our partners when we think these services might be useful to our visitors. We may receive compensation when a user decides to leverage these services, but making them available does not influence the medical content our editorial staff provides. Prescribing Information | Important Safety Information
JUBLIA is a registered trademark of Ortho Dermatologics' affiliated entities.©2023 Ortho Dermatologics' affiliated entities. JUB.0032.USA.23
Toenail fungus is a problem for many adults, affecting around 5.5% of adults worldwide. It's more common as we age, but it can be found in children. Toenail fungal infections happen when a fungus comes in contact with the nails and invades them, causing yellowing and thickening of the nails. Fungus can also affect the fingernails, but this is less common.
Fortunately, there are good treatments for toenail fungus out there. But they work slowly, so be patient. Improvement will continue after you stop taking medication, too. Here are the best toenail fungus treatments and medications that you can try.
Pills for toenail fungus treatment
Oral medications, or those that come in pill form, generally work more quickly than topical medications for toenail fungus treatment. They have higher cure rates and the overall treatment time may be shorter than topical options. Pills to treat toenail fungus, however, will require a prescription. It is also important to note that improvement will continue AFTER oral therapy is stopped, and it may take 9 to 12 months for you to see full results.
The top treatments for toenail fungus are:
Terbinafine for toenail fungus treatment
The best pill for toenail fungus is terbinafine. Evidence suggests it works better than the alternatives with the fewest side effects. Terbinafine results in resolution of toenail fungus 76% of the time. Common side effects may include headaches, skin rash, and vomiting. It is taken once a day for 6 to 12 weeks. 
Itraconazole for toenail fungus treatment
Another good pill for toenail fungus is itraconazole. Itraconazole results in cure 63% of the time. Side effects can include headaches, stomach upset, and respiratory infection. Itraconazole is also taken once a day for 6 to 12 weeks. 
Other oral medications that are available to treat toenail fungus
Oral fluconazole for toenail fungus treatment
Commonly used to treat yeast infections, oral fluconazole (Diflucan, Celozole) is another pill sometimes used to treat toenail fungus. But it's not a great alternative to terbinafine and itraconazole. It's not approved by the Food and Drug Administration (FDA) for this use, and it doesn't work as well in head-to-head comparisons. Not only that, it needs to be taken once a week for at least 3 to 6 months.
Noxafil for toenail fungus treatment
A new medication used in the treatment of toenail fungus is posaconazole (Noxafil), a liquid taken by mouth. Noxafil appears to be an effective option, but the cost makes it difficult for anyone to afford.
Creams & topical treatments for toenail fungus
Over-the-counter fungal creams like clotrimazole (Mycelex) don't work well for treating toenail fungus. Prescription nail polishes are available, but they take longer to work and aren't effective for severe cases. That's because they don't penetrate the nail very well. That said, they are still a good option for people with mild cases of toenail fungus, or for those who can't take the oral antifungals. Examples include: 
Side effects are usually minor and include redness or burning at the application site.
You might hear or read about medicated chest rub (Vicks VapoRub) as a treatment for toenail fungus, but it's mostly hype. It's a tempting option because it's so safe, easy to use, and cheap. But it's not likely to help.
Other options for toenail fungus infections
Removal of the toenail is only used when just one nail is infected, but it does work. Light therapy and lasers are also being studied as possible toenail fungus treatments. Laser therapy has shown promise when combined with oral or topical antifungals. A multicenter trial investigating the efficacy of a device, the Pinpointe FootLaser, is currently underway, so stay tuned to that.
What to watch for when taking oral medication for toenail fungus treatment
All of the pills for toenail fungus can cause liver toxicity. This is rare and is reversible after the medication is stopped. Still, liver function blood testing will be done before you start your treatment and again midway through your treatment. 
Medications like Terbinafine and Itraconazole can also interact with certain drugs. Your healthcare provider will look at your medication list to make sure there aren't any drug interactions. 
The bottom line
As frustrating as toenail fungus can be there, there are a wide range of treatment options. Prescriptions for toenail fungus, specifically oral medications, tend to yield the best results and may help you get rid of the infection faster. OTC drugs may seem more convenient, but keep in mind even longer treatment times and the unavoidable chance of recurrence.